JADE - Portal Support Process
There will be comprehensive IT support to the users of JADE Portal by local JADE Integrated Disease Management (IDM) Managers and JADE Program Portal Support Office (PSO).The JADE PSO commenced its service on 2nd Oct 2007.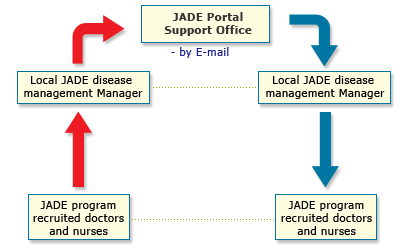 Portal Support Service :
Account setup and Password reset
Receive, track, analyze and respond to all portal related technical problems by the IDM Managers or the users.
Collect, manage and prioritize requests and problem reports from the different participating countries.
Work with the ADF administration and Portal Development Team to continuously improve the functionality, efficiency and user-friendliness of the portal.